Jacuzzi Swim Spas for Sale in San Diego, CA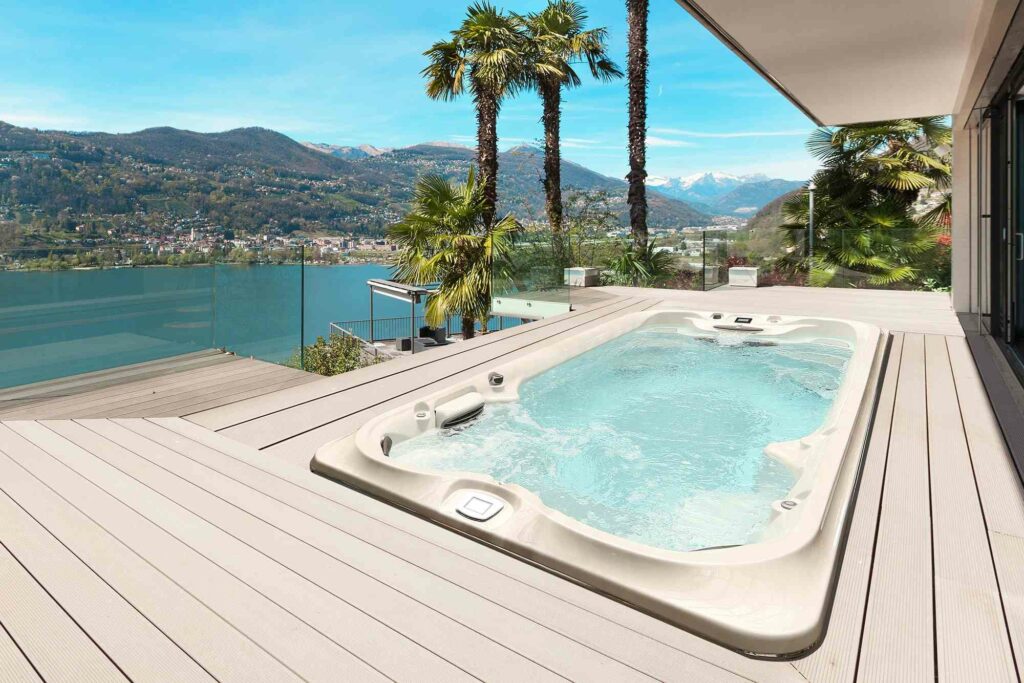 Discover the Ultimate Fitness and Relaxation with Jacuzzi Swim Spas in San Diego, CA
We're well known in San Diego for our beautiful weather, active lifestyle, and a strong emphasis on health and well-being. What better way to complement this lifestyle than to shop Jacuzzi swim spas in San Diego, CA from Aqua Paradise? These innovative aquatic marvels are more than just hot tubs or pools; they offer the perfect balance of fitness and relaxation, all within the confines of your own backyard.
Swim at Your Own Pace
A Jacuzzi swim spa is like having a personal pool and fitness center rolled into one. Designed to provide the ideal environment for swimming, the swim current generated in these spas can be adjusted to suit your preferred pace. Whether you're a casual swimmer, a competitive athlete, or just someone who enjoys the soothing flow of water, a swim spa allows you to tailor your aquatic experience to your needs.
The Perfect Blend of Fitness and Relaxation
Swim spas aren't just for swimming. They also come equipped with hydrotherapy jets similar to those found in Jacuzzi hot tubs. This means that when your swim workout is complete, you can transition seamlessly into a session of relaxation and rejuvenation. The combination of a swim current and hydrotherapy massage jets creates an all-encompassing wellness experience.
Year-Round Enjoyment
San Diego's pleasant climate makes outdoor activities a year-round possibility. With a Jacuzzi swim spa, you can extend your aquatic enjoyment beyond the summer months. Whether you're using it for lap swimming, water aerobics, or simply as a place to unwind, you'll appreciate the versatility a swim spa offers. Even on those cooler San Diego evenings, the warm water of your swim spa will provide a welcoming haven for relaxation.
Aqua Paradise: Your Swim Spa Destination
At Aqua Paradise in San Diego, CA, we are your premier destination for Jacuzzi swim spas. We understand the importance of maintaining a healthy, active lifestyle, and our swim spas are designed to support your wellness goals while offering the perfect place to unwind.
When you visit our showroom, our knowledgeable team will guide you through our selection of swim spas for sale, helping you find the perfect model that aligns with your fitness and relaxation needs. We are dedicated to ensuring that you have access to the best aquatic solutions, whether you're looking to improve your fitness, reduce stress, or create memorable moments with family and friends.
Your Swim Spa Awaits
It's time to take your fitness and relaxation to the next level. Visit Aqua Paradise in San Diego, CA, and explore our range of Jacuzzi swim spas for sale. Experience the benefits of year-round aquatic activity and hydrotherapy in the comfort of your own home.
At Aqua Paradise, we believe that everyone deserves to achieve their wellness and relaxation goals. Contact us today, and let us help you find the perfect Jacuzzi swim spa to elevate your lifestyle and provide you with the ultimate aquatic sanctuary. Your journey to fitness and relaxation begins with a visit to our showroom, and we can't wait to assist you in making your aquatic dreams a reality.