Experience 60+ years of innovation.
With over 60 years of experience and innovation, it's no wonder why Jacuzzi® Hot Tubs are highly known and regarded throughout the spa industry. With 20+ premier spa models to shop from, finding the best hot tub for your lifestyle is a simple process – especially with help from the experts at our showroom!
Equipped with features such as the SmartTub™ System, PowerPro® Jets and stunning ProFinish® Cabinetry, you'll wonder how you ever went without a Jacuzzi® Hot Tub.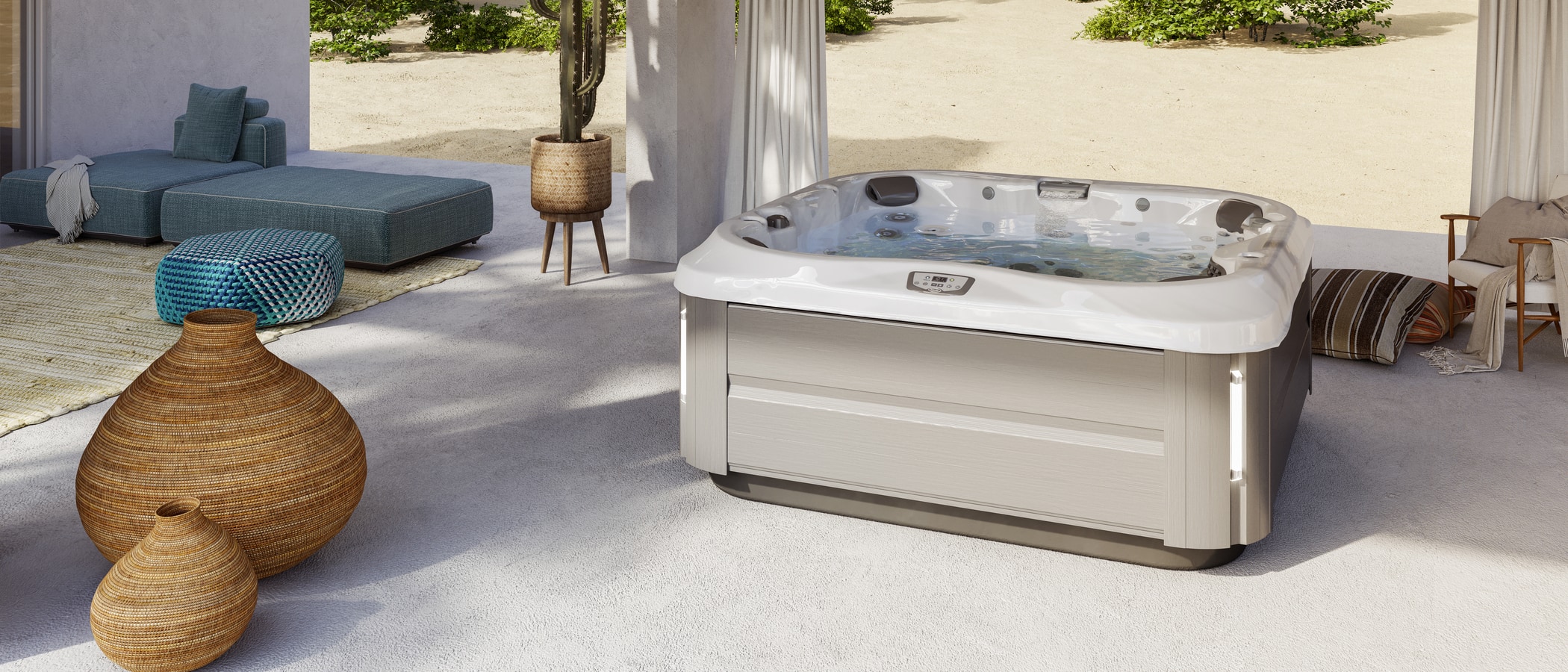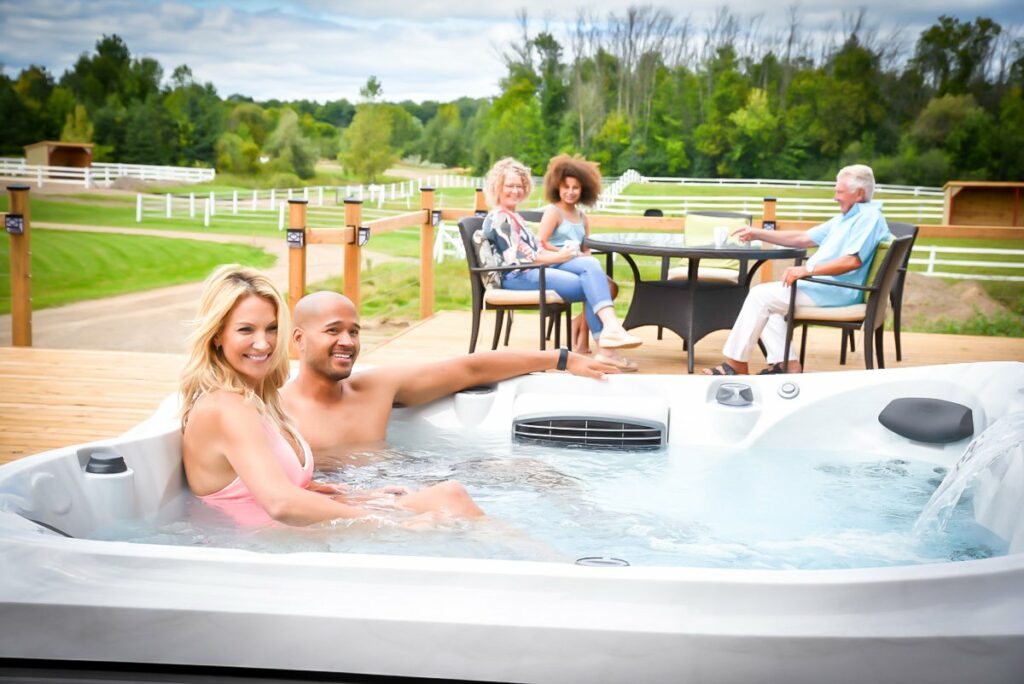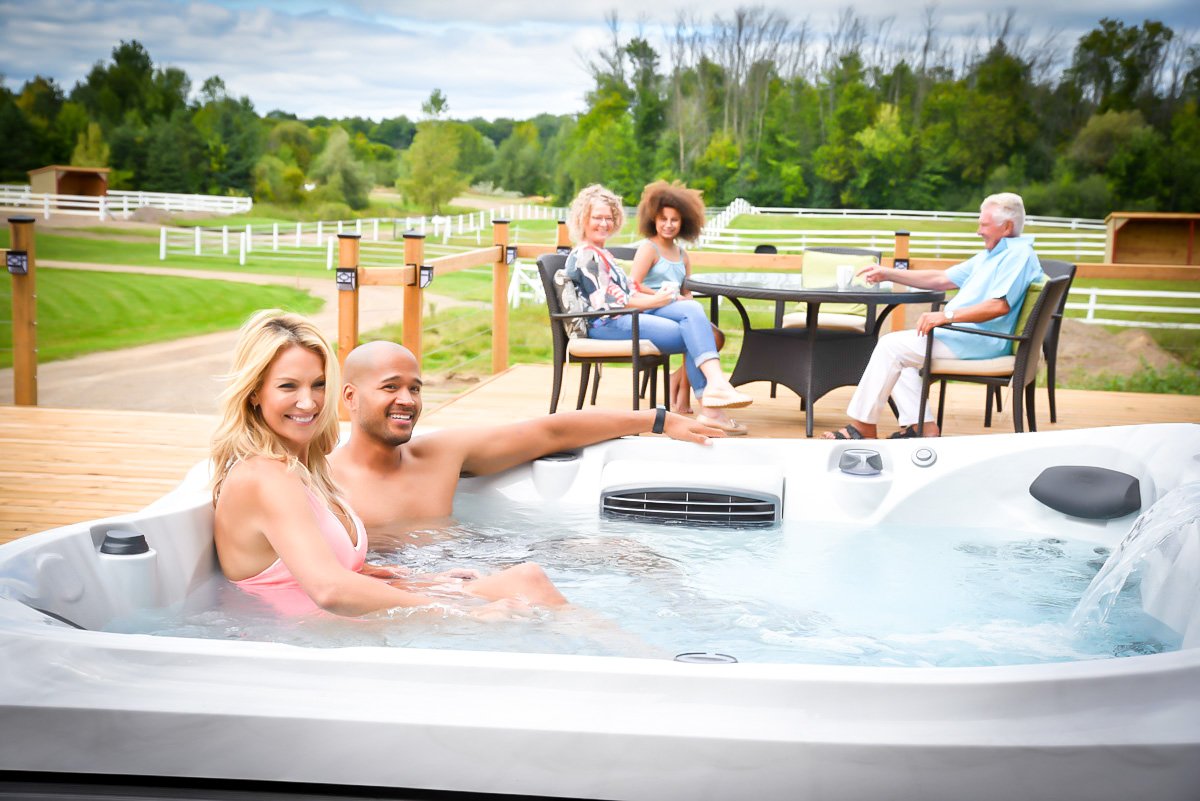 THE RIGHT HOT TUB FOR YOUR LIFESTYLE
Where Style Meets Innovation
When it comes to the hot tub lifestyle, there really is no comparison. You can enjoy a simpler approach to health and wellness, all while making a lasting investment in your home and quality time with loved ones. When complemented by the innovation and excellence that is synonymous with Jacuzzi® Hot Tubs, you'll wonder how you ever went without.
Made With Excellence In Mind
Jacuzzi® Hot Tubs are designed and engineered with your health, wellness and enjoyment in mind. Only the best materials are used to craft these industry-leading spas to ensure a product that is nothing less than superior.
Unforgettable Hydrotherapy Experience
The right jets can create the perfect spa experience. Surround your body with jets that create the perfect mixture of water and air and leave your body feeling revitalized.
A Modern Approach To Spa Ownership
Intuitive and user-friendly, these control panels allow you to control every aspect of your hot tub. The control panel is resistant to water and illuminates at night. This upgrade is an option on most Jacuzzi® Hot Tubs.
Personalized Spa Experience
With over 25 different cabinet and shell combinations, you can customize the entire look to your preference. You can even match the spa to your deck, patio or installation aesthetic for an appearance that is truly complete.
Everything you need to know about Jacuzzi® Hot Tubs, from the features and technology, to how one can change your life for the better.
Our commitment to customer satisfaction shines in our reviews. Just see what our customers have had to say!
Brent helped me out with everything from answering all my questions and concerns to placing my order. A smooth process the whole way.
Everyone we have dealt with has been a 5 star!
Everyone we have dealt with has been a 5 star! We are enjoying our new Jacuzzi and love the fact that any problems and questions are just a phone call away. Our salesman Michael, the delivery crew and Lee, the installer have all been over the top friendly and knowledgeable. So nice to deal with a service oriented company!
Easy buying experience and no pressure. Thanks Aqua Paradise for our new jacuzzi
Highly recommended the store
Bought j 300 collection jacuzzi from Aqua Paradise about 2 months ago. The stuff was very helpful to choose the right one for me and for my budget. They really took time to go over with me about all the details me or my wife needed. I am totally happy I got jacuzzi and my family enjoyed it! Highly recommended the store, customer service and the brand!
The team showed flexibility in working with us
Ordered a jacuzzi spa from aqua paradise earlier this year. Was fully aware that there would be a lengthy wait for the spa to arrive. In the interim during the waiting period we had a change in course and elected to not take delivery as planned. We worked with the Aqua paradise management team and together we worked out a solution. The team showed flexibility in working with us in a mutually beneficial fashion.
Kayla was so helpful and knowledgeable – She handled everything. There was an issue with delivery but it was fixed by Kayla. Blair was great at setting up the jacuzzi and walking me through the jacuzzi owning experience.
Zackary was very helpful in picking the correct tub for our needs. We received detailed instructions on setting up the electrical and pad area. Delivery was quick. Best customer service. Once installed, I've enjoyed the jacuzzi every night. Each seat has different features and massage types. Shiatsu, deep tissue, hands, feet, hips, upper and lower back, the jacuzzi does it all. Very happy
From the moment I came in to the store and met Brent I could tell I could trust this outfit and depend on their service. The guys who did my delivery and set up were awesome. I had to have a follow up service call for adjustments and they were right on it. Amazing customer service.
Our team of home and backyard leisure experts are here to help you, every step of the way. Get in touch with us today!
Jacuzzi® Hot Tubs for Sale at Aqua Paradise
Aqua Paradise is proud to be your authorized resource for Jacuzzi® Hot Tubs in the San Diego and Orange County areas. Through innovative hydrotherapy technology, advanced massage jets, and other stress-reducing features, Jacuzzi® Hot Tubs can deliver a wealth of benefits for your health and wellness. Our lineup at Aqua Paradise includes the entry-level J-200™Classic Collection, the ergonomically-designed J-300™ Comfort Collection, and the stylish and elegant J-400™ Designer Collection. See all of these models up close and take a soak test at our showrooms in San Diego, Oceanside, Ranch Bernardo, and Laguna Hills, California.
Affordable Jacuzzi® Hot Tub Financing Solutions
There's no doubt about it, a Jacuzzi® Hot Tub can be a significant financial investment, but Aqua Paradise can help make it a more affordable purchase with flexible financing options for our customers near San Diegoe, Orange County, and Los Angeles, CA. We partner with a variety of respected local and national lenders that can create a flexible payment plan that meets your financial and lifestyle needs, and we will advocate on your behalf for the best rate and terms. Contact us today or get pre-approved online for your Jacuzzi® Hot Tub loan.
Certified Jacuzzi® Hot Tub Maintenance & Repairs
Keep your Jacuzzi® Hot Tub clean and maintained with routine service visits from Aqua Paradise. Our trained and certified technicians will ensure that your Hot Tub is operating at its best so that you can relax, recover, and delight in its therapeutic water. You can read more about our service offerings here online, contact us if you have any questions, or schedule a service appointment for your Jacuzzi® Hot Tub in San Diego, Oceanside, Ranch Bernardo, and Laguna Hills, California.