Jacuzzi J-400 Hot Tubs for Sale in San Diego, CA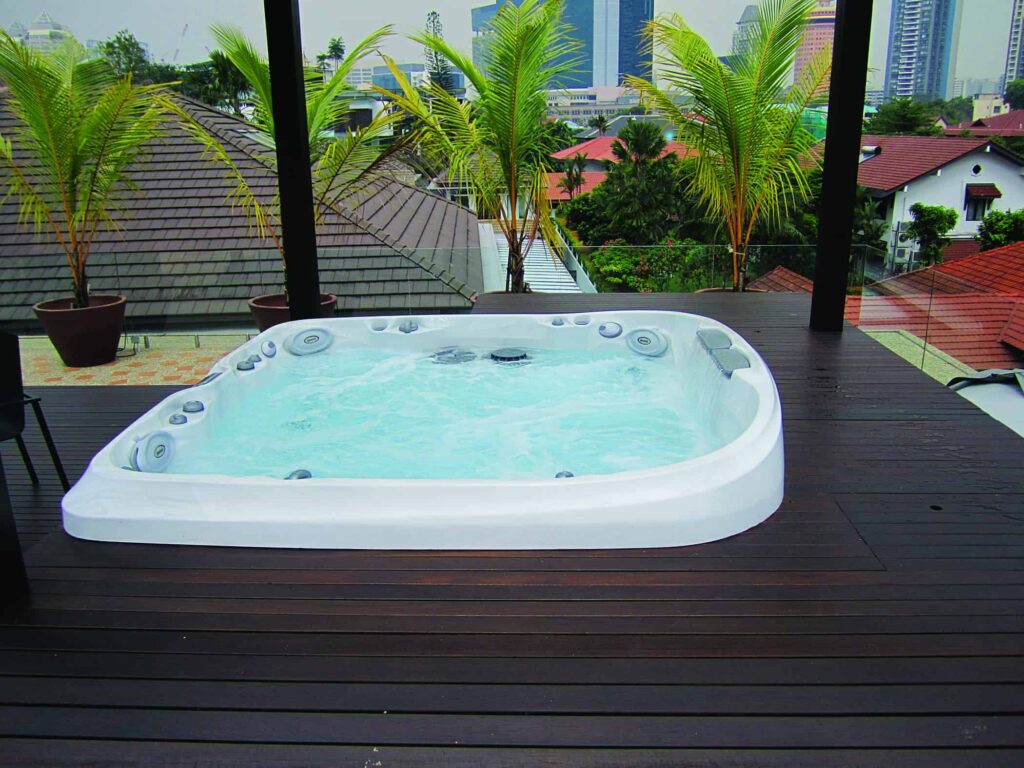 Imagine coming home after a long day and stepping into your very own oasis of relaxation, right in the heart of San Diego, CA. As the sun sets over the Pacific and the city begins to unwind, there's nothing quite like immersing yourself in the warm, soothing waters of a Jacuzzi J-400 hot tub. At Aqua Paradise, we believe that life is meant to be enjoyed, and our selection of Jacuzzi J-400 hot tubs is designed to elevate your daily life to new heights of luxury and comfort.
 A Jacuzzi J-400 hot tub is not just a product; it's an embodiment of our commitment to curating an exceptional lifestyle. We take immense pride in presenting an array of these hot tubs, meticulously crafted to immerse you in a realm of tranquility and luxury, ensuring that every evening spent within the warm embrace of a Jacuzzi J-400 transcends the ordinary and becomes an extraordinary moment to savor.
Jacuzzi: A Legacy of Excellence
The Jacuzzi name is synonymous with quality, innovation, and the pursuit of a better, more relaxing life. For over 60 years, Jacuzzi has been at the forefront of hot tub technology, and their J-400 series exemplifies their commitment to excellence.
Each Jacuzzi J-400 hot tub is a work of art, meticulously designed to provide an unparalleled spa experience. From the moment you step into the ergonomically designed seats, you'll understand why Jacuzzi is considered a leader in the industry. The strategically placed jets, contoured seating, and intuitive controls are all aimed at one goal: making your time in the hot tub the highlight of your day.
Unwind and Rejuvenate
The Jacuzzi J-400 series is not just a hot tub; it's your personal refuge from the stresses of everyday life. These hot tubs offer a range of features designed to cater to your specific relaxation needs. Imagine slipping into the water as powerful, yet gentle, hydrotherapy jets target your sore muscles, leaving you feeling completely rejuvenated. With a Jacuzzi J-400 hot tub, you can customize your experience to achieve the perfect balance of pressure, heat, and buoyancy.
Enhance Your Outdoor Living Space
Beyond the remarkable hydrotherapy, a Jacuzzi J-400 hot tub can be a stunning addition to your outdoor living space. Crafted with attention to detail and aesthetic appeal, these hot tubs are designed to complement the natural beauty of your San Diego surroundings. The elegant design seamlessly blends into your environment, creating a visually pleasing focal point in your backyard.
Aqua Paradise: Your Jacuzzi J-400 Destination
At Aqua Paradise in San Diego, CA, we're proud to be your authorized Jacuzzi hot tub dealer. We believe that everyone deserves a slice of luxury in their life, and we're here to make that possible with the Jacuzzi J-400 series. Our team is dedicated to helping you find the perfect hot tub to meet your relaxation and wellness needs.
If you're ready to experience unparalleled luxury and transform your daily life, visit Aqua Paradise and explore our range of Jacuzzi J-400 hot tubs for sale. We're here to assist you in selecting the model that perfectly complements your lifestyle and provides the relaxation you deserve. Your personal oasis of luxury and comfort is just a visit away, and we can't wait to help you make it a reality.