Hot tubs are an indispensable feature of many health retreats, resorts, and tropical islands, but they can also be a focal point of your very own backyard!
Outdoor hot tubs can add value to your house and provide a myriad of benefits that far surpass evening relaxation.
They are a perfect way to add a "wow" factor to your backyard and help you relax and enjoy the great California weather.
Curious about all the other benefits you can enjoy with these luxury backyard spas?
Read on to find out!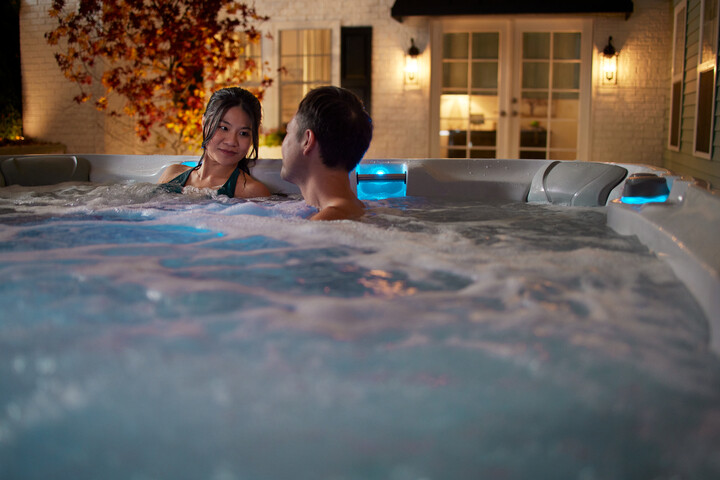 6 Benefits of Outdoor Hot Tubs
While hot tubs of any style provide a range of health and wellness benefits, outdoor hot tubs take this even further simply by being in the great outdoors!
Below, we'll break down some of the best health benefits you can experience each time you sink into the soothing depths of your hot tub, along with some that can solely come from an outdoor installation.
1. The Best Post-Workout Recovery
Numerous sporting professionals use hydrotherapy for the recovery and rehabilitation of healing joints and muscles.
Between the jet-powered hydromassage and the soothing warm water moving around your body, you can help promote faster healing throughout your body following a workout.
These factors can help remove lactic acid and release tense muscles, all while improving blood flow to better oxygenate even the muscles farthest from your heart.
Spending time in a hot tub relieves pain and stiffness after you've pushed yourself through a taxing regime, and can also reduce the risk of injury.
Hot tubs easily create the best post-workout recovery routine, and provide a powerful way to reward yourself!
2. A Whole New (exciting) Exercise Routine
Not only is your hot tub good for after a workout, but you can also use your hot tub during your exercise routine!
You may be wondering how you would workout inside a hot tub, and the answer is actually quite simple.
There are plenty of low-impact exercises you can do in your outdoor hot tub that increase strength, flexibility, and muscle tone, all while protecting your joints!
For many bodyweight exercises, you don't need a lot of room to complete, and your hot tub provides more than enough room to move through various ones.
Some exercises you could complete in your hot tub include:
Pushups
Bicycle crunches
Lunges
Angled planks
Leg raises
Jogging in place
Hot tubs provide a unique atmosphere for you to work out in, which brings its own range of benefits, such as:
Higher resistance
Strengthening smaller muscles groups
Improved balance and posture
Lower impact
Buoyancy to protect your joints
Improved flexibility and range of motion
And what's more, the warm water naturally heats up your muscles, improving your overall warmup routine to prepare your body for the upcoming work!
Use the water's resistance, buoyancy, and heat to achieve your fitness goals with less stress on your muscles and joints!
3. Get a Better Sleep
Spending time in your outdoor hot tub for just 30 minutes before going to bed is a healthy way to reduce stress and relax both your body and mind.
As you enjoy your soothing soak, the warmth from the water will increase your body temperature.
The minute you get out of your spa, your body will start cooling down. This sudden drop in temperature is your body's natural way of preparing your body for a good night's rest, and will send signals to your body, making you sleepy.
This helps you fall asleep faster, and remain sleeping much longer throughout the night.
Powerful massage jets will take away your worries and aches and pains, while also providing you with a moment of peace and quiet, setting the tone for the rest of your evening.
4. Improve Your Quality Time With Family and Friends
With all that said, hot tubs aren't only about quiet relaxation. They also provide the perfect environment to reconnect or entertain your loved ones!
Whether it's throwing a hot tub party to remember, or inviting your closest friends over for a backyard spa day, your hot tub can provide ample social benefits as well!
It's time to bring your friends and family together and enjoy some lively conversation!
There are tons of interesting and fun things to do in an outdoor hot tub or spa with your loved ones. Unplug from your phone and other electronic devices and invite people who enrich your life to join you in your outdoor hot tub or spa.
5. Boost the Value of Your Home
Your outdoor hot tub also helps improve the overall quality of your home, adding to its market value.
Even if you have no intention of selling, knowing your home is continuing to grow in value can give you peace of mind if the time to sell ever arises.
But it does more than affect the monetary value of your home. It also improves your perceived value as well, resulting in you feeling happy with the space you return to every day.
With a backyard that provides endless relaxation opportunities and allows you to spend quality time with your family and friends in an exciting way, you'll quickly fall in love with your home all over again!
6. Spend More Time in Nature (and combat stress!)
This is one that's pretty obvious when talking about outdoor hot tubs, but did you know that simply spending 20 minutes in nature helps reduce stress levels?
That's right, creating an outdoor oasis can transform your self-care routine and combat the daily stressors you experience, whether at home or in the workplace.
Simply come home, step into your luscious backyard, and feel the stress melt away!
Hot Tub Accessories to Elevate Your Outdoor Hot Tub
Sure, just being in your backyard and enjoying the warmth of the crystal-clear water is enough to put anyone in a state of pure bliss, with the right hot tub accessories, you can bring this even further.
Whether you're looking for items to enhance your relaxation, or make your spa easier to care for, there are plenty of options to choose from.
Sound System
If you want something more than the quiet ambient sounds of the waterfall, try adding a sound system to your hot tub, or a floating Bluetooth speaker.
Not only can you play your favorite soothing sounds, but you can set the mood for your next gathering with your top party playlist.
Hot Tub Aromatherapy
Aromatherapy has been around for ages and can provide its own unique benefits.
While you'll want to avoid using traditional products, such as essential oils, including some hot tub-safe aromatherapy is a great way to enhance your relaxation, or give your mood the boost it needs after a long day.
If you'd prefer a more natural option, you could even plant aromatic plants around your spa, like lavender, jasmine, or even rosemary!
Discover how Sundance®️ Spas is integrating hot tub aromatherapy to elevate your therapeutic experience in this short video.
Fairy Lights
Boost up the visual appeal of your hot tub by hanging some fairy lights around it.
This provides a great way to showcase your premium hot tub after the sun sets, while also creating a calming, romantic atmosphere.
Hot Tub Sponge or Tennis Balls
Not all accessories focus on your time in the water. Others, like hot tub sponges, aim to make your time caring for your hot tub easier!
As you soak your worries away, anything on your skin is transferred to your water. This can include things like lotions, deodorant, and even detergent from your bathing suit.
These oils float along the surface and can be difficult for your sanitizer to break down, which is where a sponge comes in handy.
Simply throw it into your spa after you've finished your session, and it'll absorb the oils that are lingering in your water, helping keep your water clean!
Outdoor Hot Tubs in Laguna Hills and San Diego
Aqua Paradise is your one-stop shop in San Diego County for all your hot tub and spa needs!
Reach out to your local team and get a high-performance, premium hot tub, or swim spa for your backyard!
We also offer a comprehensive range of products that are available through our online store, to ensure that your hot tub is well-maintained and clean all year round!
Visit one of our five locations throughout the San Diego Area, and our backyard leisure experts will be thrilled to help you discover the outdoor hot tub of your dreams!