THE COMPLETE HOT TUB EXPERIENCE
The Simpler Approach to Hot Tub Ownership
Introducing the revolutionary SmartTub™ System – the ultimate way to enhance your relaxation, recovery, and performance. With just a tap on your smartphone, experience the future of spa ownership, as it allows for easy access and maintenance of your hot tub. Say goodbye to the hassle of traditional hot tub management and step into the world of SmartTub™ – where luxury meets convenience.
INNOVATION AND TECHNOLOGY
SmartTub™ System Features
It's time to take your hot tub experience into the future. Explore the innovative features and technology of the SmartTub™ System, designed with luxury, comfort and convenience in mind.
Remote Access and Control
Ultimate Convenience With the App
Exclusive to the SmartTub® System, Smart Heat mode is a new and innovative way for hot tub owners to reduce their energy consumption. To use this feature, simply create an intended use schedule and the desired temperature of your water. Using this information and other factors such as the local weather conditions and spa insulation, your spa will regulate the heating to save energy during idle periods. When it's time for a scheduled soak, your spa will automatically raise the water temperature!
This mode is most ideal for those who use their hot tub once or twice a week.
How to Use Smart Heat Mode
Interested in using the Smart Heat Mode on your hot tub? You can set it up and enjoy in five simple steps!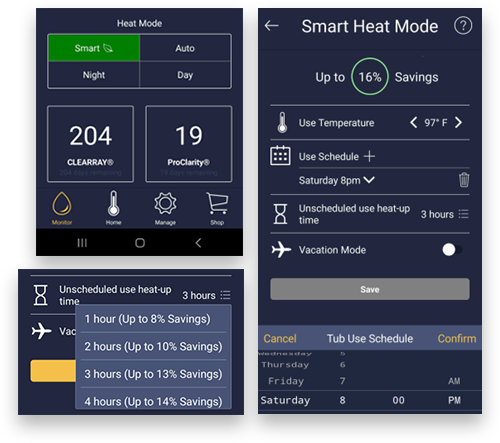 FREQUENTLY ASKED QUESTIONS
FAQ About Smart Heat Mode
Q. I don't see Smart Heat Mode on my control panel?
A. The Smart Heat Mode is a new feature exclusively for current SmartTub® users. You can utilize this feature within your SmartTub® System app.
Q. How can I learn more about Smart Heat Mode?
A. On the Smart Heat Mode menu within the SmartTub® System app, press the "?" to access more information.
Q. Where can I find the Eco Mode feature?
A. Eco Mode is now called Night Mode.
Q. How much energy can I save with Smart Heat Mode?
A. Our Models suggest customers may save up to 25% over their past energy consumption.
Q. How can I use my hot tub when it isn't a scheduled time?
A. Start by turning off Smart Heat Mode. Then, set your preferred water temperature. Once you have finished with your soak, simply turn Smart Heat Mode back on!
Learn more about the SmartTub™ System today with our team of experts at Aqua Paradise.