Imagine walking into the house after a long day at work, knowing that you can relax in your own movie-like backyard getaway.
Seems like a dream come true, doesn't it? Now imagine one of the most beautiful hot tubs Escondido has ever seen, integrated seamlessly into this heavenly scenery, all at your pleasure.
With a few pieces of advice about landscaping and a few tips and tricks for choosing hot tub designs and layouts, there is no reason you can't make the dream come true!
Make an Elaborate Plan for Your Garden Hideaway
Like all successful projects, this one starts with developing a plan. Assuming you're not an expert in architecture or hot tub designs and layouts, consulting a professional should be your next step.
You'll need expert advice mainly in relation to the technical aspects, such as positioning and installing the items you've set your mind on.
On the other hand, this is supposed to be the garden you've envisioned in your dreams – the creative concept should be all about what you want! Try to reach a compromise between what's realistic and feasible and what you actually want.
Decide on The Purpose and Focal Point of The Garden Space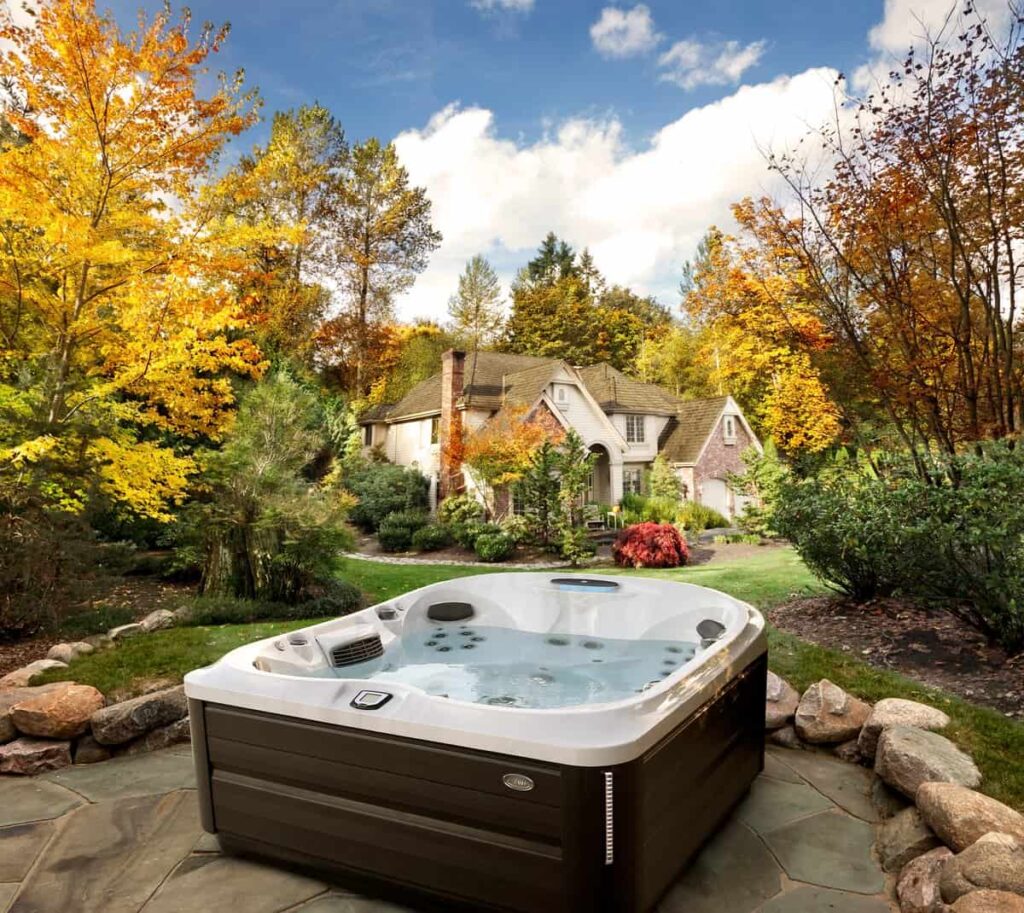 Your perfect hiding place should be developed with your needs and habits in mind. Ask yourself – what will you be using the backyard for, once it is all equipped and done?
Swimming enthusiasts might want to use up all the space to set up a swim spa, but maybe you'd much rather hide in the shadow, sipping a cocktail.
Think About Items Placement and Hot Tub Designs and Layouts
If you have a vast area that can be used for hot tub purposes in the backyard, decide whether you want the hot tub to be the central point.
You could also decide to add a sitting area to the mix, surrounded by all the greenery or build a gazebo on one side, creating a more private place for the hot tub on the other side of the garden.
No matter what the total size of the garden is, avoid leaving all the sides of the hot tub exposed. Use the existing items and walls to anchor the tub to them, and then accessorize according to your personal preferences and taste.
Don't Forget the Final Touch!
Once you've decided on the hot tub designs and layouts you like, and finalized the plans and installations, it's time for some lovely little finishing touches to wow anyone popping into your backyard.
Think about installing garden lights that add to the magical atmosphere during the night, or smaller decorations bound to catch the attention of a tasteful observer!
You can also, consider Covana hot tub cover, – this is an elegant and practical solution. Not only will you be able to avoid using the less appealing standard tub covers, but you'll also have your background getaway looking impeccable even when the hot tub is not in use.
Additionally, don't forget to consider plants, trees, shrubbery and other landscaping elements. Natural landscaping can transform any space into a tranquil, peaceful environment. It can also help to provide privacy, shade and even more natural beauty.
If you want a personal touch, you can even show off your creative side and make your own decorations rather than buying them. For instance, you can set up a flagstone pathway, line the walkway with flower pots, and fill up the tub with floating candles and flowers.
The possibilities are endless when it comes to hot tub designs and layouts. With a little bit of imagination, you can create the ultimate backyard escape!
Looking for Beautiful Hot Tub Designs and Layouts? No Need to Fantasize, Just Visit Aqua Paradise!
If you decide on a hedonist's dream come true, that is, installing an outdoor hot tub, come to Aqua Paradise! We have the most beautiful hot tub designs and layouts from Escondido to Chula Vista.
Our employees will not pressure you into making up your mind. Just relax, take your time, try to visualize your initial idea, and find the perfect hot tub option to bring a touch of luxury into your backyard. We're looking forward to helping you create your very own Aqua Paradise!